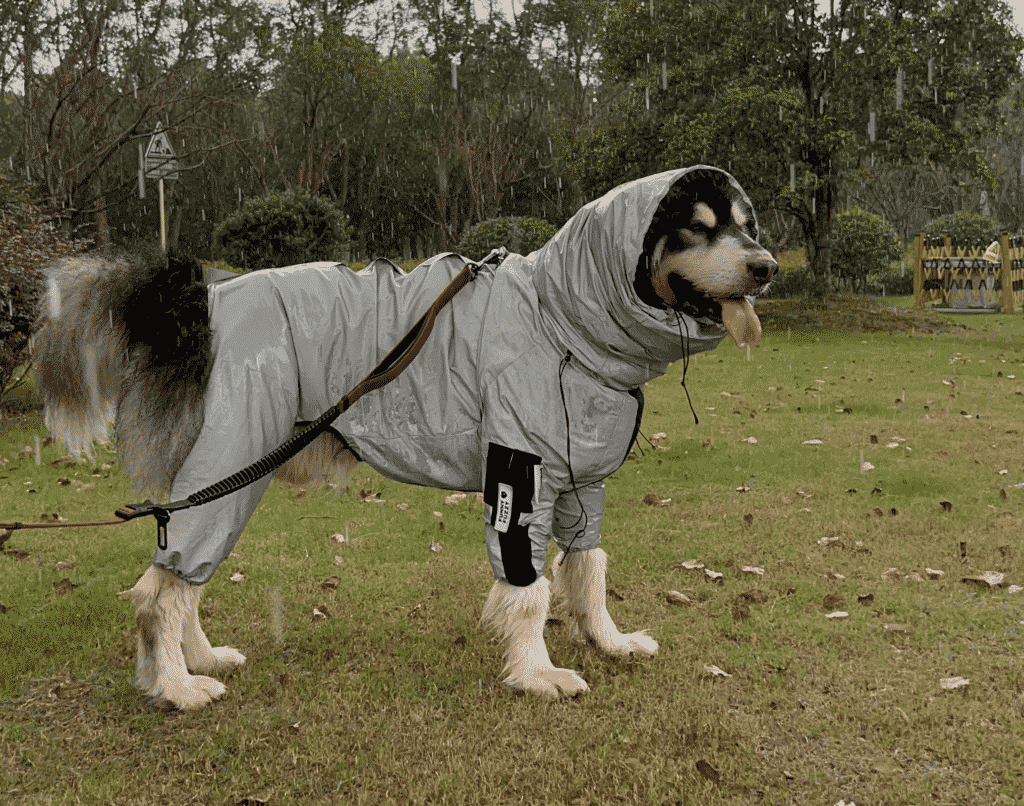 There's no need to put your walking dog in the rain on hold just because of rain. Instead, you need to make these three essential gears available. So, you can let the dog enjoy the rain with you.
We believe that walking your dog in the rain is a great way to get them some exercise, but it can be a mess if you're not prepared. Here are three essential items that will make walking your dog in the rain easier.
A Dog Rain Coat with Hoodie
Hand Free Lead for Dog
Disposable Waterproof Dog Boots
With these three essentials, you'll be able to enjoy a walk with your pup no matter what the weather throws at you!
1. Dog Rain Coats With Hoodies
Is the weather rainy and yucky outside?
Dog coats are perfect for those days you want to go out, but the forecast calls for wet weather. Raincoats come in all shapes and sizes, so finding something that fits your pup is easy. So he can go out without you and enjoy the weather while staying dry.
Pawprints, bones, and polka dots are just a few patterns you may see often, but our recommendation is slightly different here.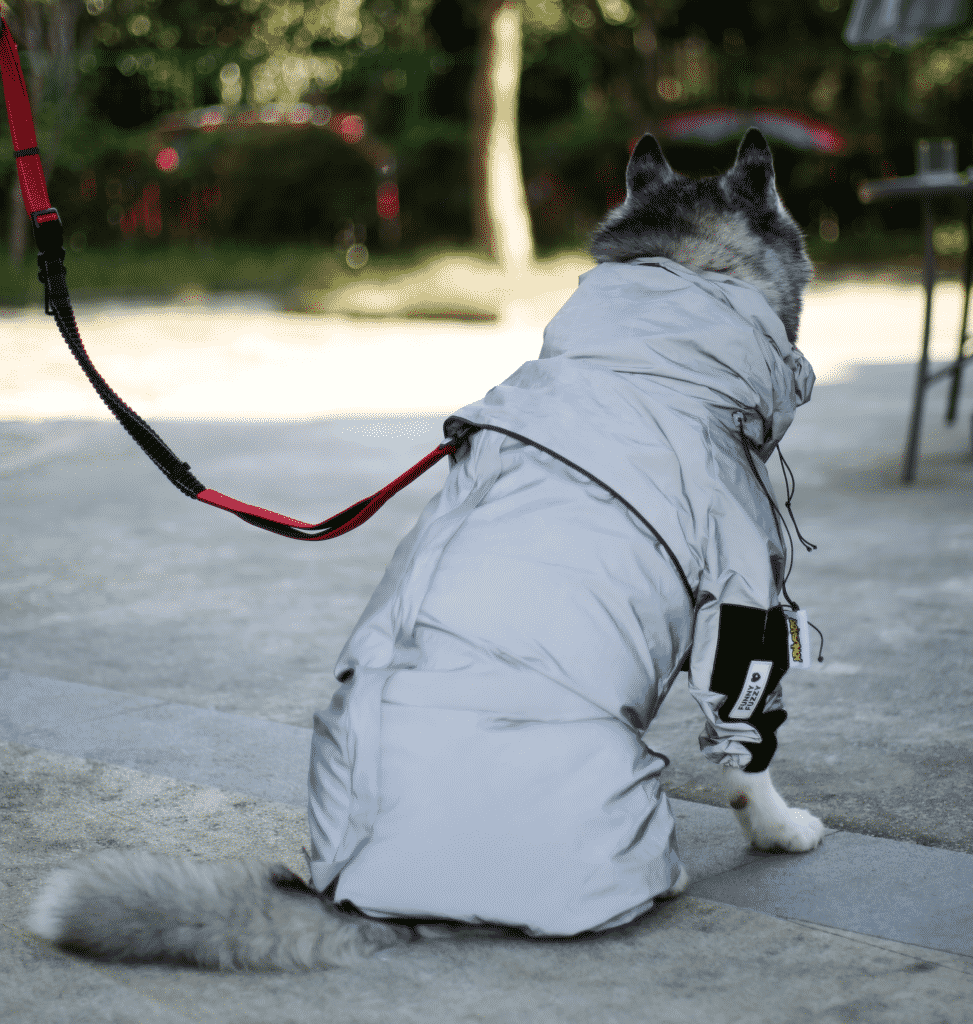 FunnyFuzzy waterproof dog coat with hoodie is a premium & valuable gift idea for dogs. It has a unique hoodie design, use of bright and reflective color makes this raincoat one of a kind! Some of its notable features are:
It's safe at night due to its high brightness and reflective color
Fully Adjustable and meet the new fashion trends
Design that keeps the dog comfortable
Protect from UV, wind, and Dirt
It has a zipper closer, makes it easier to get on and off
In addition, this raincoat is very lightweight & thin, so your dog will never feel hot in summer no matter how long he wears the coat. Finally, to make it easy to maintain FunnyFuzzy make the velcro emblems changeable and provide a convenient method in the shape of opening to attach a leash or collar.
It is also the same that we recommend in a raincoat!
2. Hand Free Lead for Dog
You need to have effective control over your dog and need to keep your hands free. So, in case of any emergency, you can quickly handle it.
That's why we recommend using a hand-free lead for dogs. This product will allow you to have complete control over your pet while still giving them space to explore. Our recommended lead functions as:
Standard Lead
Front Hand Loop for Traffic Control
Hands-Free Lead
Courier Style Lead
Stationary Teather
Safety Dog Seatbelt
It's made with nylon and available in two colors, red and black, so that you can choose according to your style. It's adjustable, shock-absorbing, durable, and manufactured to last for many coming years.
3. Disposable Waterproof Dog Boots 
Is your dog afraid of walking in the rain? You can solve this issue with disposable dog boots. These boots are easy to wear and remove, while dog paws remain protected from mud and rainy water. So, he will not be afraid to walk in the rain.
Every year, many people face the tragic accident of their beloved pets. The reason is that they have no proper care of their dog's behavior on rainy days or snowfall days.
A recent study shows pet drawing cases are rising in the United States.
This product will keep your pet's paws dry no matter how long he walks in the water. The boots also give him a solid grip that prevents slipping and falling on slippery surfaces.
6 Tips to Keep Your Dog Safe While Walking in the Rain
1. Pick the Right Time of Day
If you want to take your dog outside in the rain, but they just won't go for it, try again at a different time of day. Dogs are less likely to object if they're tired and hungry after sleeping through the night or having breakfast.
If you push them too early before their usual walk time, they will be more likely to get upset.
2. Pick a Short Route for Your Walk
One of the best things you can do when it's raining is keeping your dog's walking route short. It makes it easier to keep the dog under control, but it also means your pup won't have far to walk before getting home.
If you know your pet will try to bolt after a squirrel, keep him close and shorten the route.
3. Avoid Busy Streets And Unfamiliar Places
Unless you're in a rural area, it's best to avoid busy streets and unfamiliar places when it's raining. In addition, other dogs may be more aggressive on these types of walks because they aren't used to the wet weather.
There is also a greater chance of cars hitting your pet if he gets distracted by the weather on the road in urban areas.
4. Keep Them on Leash (Always)
Your pup loves spending time outside, but there are some environmental elements that you just can't control. So it's best to keep them on a leash under any circumstances.
Even if your dog is well-behaved and rarely pulls against the harness, he could suddenly try to go for a squirrel or chase after another animal.
5. Wear Reflective Gears (Both of You)
It's not just your dog that needs to be visible when it rains. You should also wear reflective gear, especially on dark roads.
If you are out for a walk in the evening or early morning, cars may have their headlights off and instead rely on poor daylight to see what's ahead of them.
6. Wash and Dry
Once you return home, don't forget to give your dog's paws a nice bath after being outside in the rain. Dogs love spending time with their owners, and they will be eager to come inside once they notice that everyone is starting to dry off.
While you wait for them to dry, brush out any dirt or mud that may have stuck to their fur.
Final Words
Rainy days can make outdoor walks difficult, but you and your pup can stay safe and dry with the right gears. The above-listed three essentials are designed to make rainy walks comfortable and enjoyable.
First, consider investing in a good raincoat for your dog. Many options on the market will keep your pet dry from head to tail. But our recommendation stays with the FunnyFuzzy Waterproof Rain Coat with Hoodie.
Second, buy a leash that allows you to keep your hands free, and boots come last.